La Seu Cathedral, 2010
La Seu Cathedral
Palma, Mallorca
"La Seu is a gothic Roman Catholic cathedral located in Palma de Mallorca, Spain, built on the site of an existing Arab mosque. It is 121 metres long, 55 metres wide and 44 meters of nave height. Designed in Spanish "levantino" Gothic style with influences of the North European gothic, it was founded by King James I of Aragon in 1229 but finished only in 1601. It sits overlooking the Parc de la Mar and the Mediterranean Sea, protected by the old town walls...Fifty years after a restoration of the Cathedral had started, Antoni Gaudí was invited in 1901 to take over the project." (See Link 1.) (See May 16, 2010 Blog Post for another Gaudi church.) This massive Gothic Cathedral dominates the city skyline of Palma, Mallorca.
Sanctuary with Rose Window (Google Photo 1.)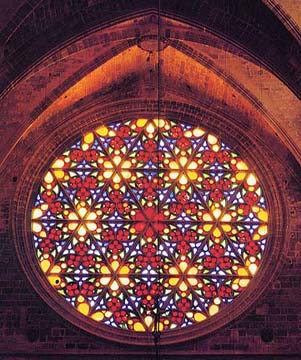 Herbrew Star Rose Window in Sanctuary
(Google Photo 2.)
"If you catch the sun falling through the rose window on a bright morning, every nook and cranny in the Mallorca cathedral lights up like a rainbow and you will understand why it is commonly referred to as 'The Cathedral of Light'." (See Link 2.) This rose window measuring 100m2 is the largest Gothic rose window in the world. It is divided into 24 triangles, half of which form the Star of David. (See Link 3.)
Mirador Portal 2010
"On this side(the side facing the ocean) also lies the jewel in the crown of the Mallorca cathedral - the Mirador portal. (See photo below.) This is the huge arched entrance half way along the façade, which surely contributes the most important Gothic group of sculptures in Mallorca (Majorca). Between 1380 and 1422, Northern European and Mallorcan artists worked on this Gothic masterpiece, with the Mallorcan architect and sculptor Guillem Sagrera being the leading local contributor.
"Within the arches are two clearly differentiated horizontal sculptures: the first depicting the Eternal father with adoring angels and the other, directly below, the last supper. On the pillar between the two doors is a delightful Virgin Mary with child and in the niche of each arch are the sculptures of five saints; James, John and Peter on the left, and Andrew and Paul on the right. Together, they make this portal one of the most important examples of Mallorcan medieval art on the island." (See Link 2.)
Photos: Top-Front of Cathedral with rose window and palm trees of Mallorca. Middle-Front of Cathedral with rose window, top of arch above front doors, twin towers, and central angel statue on roof peak. Bottom-Detail of side entrance described.
Google Photos: 1. geolocation.ws 2
. catalunatics.com
Link 1:
http://en.wikipedia.org/wiki/La_Seu